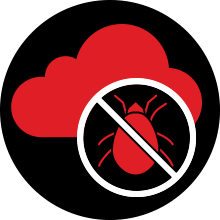 The most popular method of delivery for viruses, phishing, ransomware and other malicious attacks is via email. We have all seen those emails pretending to be your bank asking you to log in and confirm your details, or the emails that state an overdue account with a link to pay online. These are all clever techniques employed with the aim of either decieving the user into giving up some personal information, or an easy way to deposit a virus or other malicious software. It is therefore imperitive that some kind of Anti Spam solution is deployed to not only protect your company against incoming email, but to protect your email reputation by blocking potential threats going out of your organisation. A continued breech of outgoing emails will affect your domain's reputation and will eventually lead to your domain being blacklisted, a situation that no business wants to be faced with.
Our cost effective SPAMExperts solution is the first point of call when emails come in or go out of your organisation. SPAMExperts uses advanced rules to filter out SPAM and malicious emails before they go to your email server. This will protect your network from these threats but will also reduce the load on your systems as the SPAMExperts servers will take the processing load of all the emails coming in and will then only forward safe emails, imagine how your servers would cope if they had to process and additional several hundred or even thousand SPAM emails every day.
The SPAMExperts Anti Spam service is inclusive with our Hosted Exchange Email service however if you have your own servers, or another hosted email service such as Office 365, we can still attach this Anti Spam service and increase your threat protection levels.
BACK TO CLOUD SERVICES
Get in touch to find out more