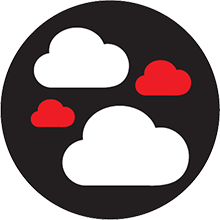 Cloud technologies have progressed very quickly and more and more businesses have some kind of cloud service. Many have just a hosted email or backup system whilst others operate their entire business from the cloud. We have a client that only has an internet connection and thin clients onsite in their office in North London, everything including virtual desktops, servers, email, applications and backups are all cloud based. Swift Digital has been supplying cloud services to its customers for over a decade so whatever your requirements, we are sure to find the perfect solution for you and your business.
Along with the UK based cloud services, Swift Digital also has a wealth of experience with migrating systems on in-house systems to the cloud. Such examples are:

- Hosting for your website or application on our secure UK based servers.

- Installation and configuration of online backup where all backups are securely held in the cloud.

- The migration of your entire on-site email system (usually Microsoft Exchange), to Office 365 or our hosted Exchange email system. This includes the creation of the hosted mailboxes, backing up of the current emails, migration of the emails to the hosted platform, and the transfer of all contacts, histories, calendars.

- The introduction of virtual servers stored in the cloud along with the migration of applications and data files, the reconfiguration of the local workstations for cloud connectivity, and the introduction of a secure direct VPN connection to the data centre.

- The introduction of a completely hosted infrstructure where all local clients connect to the hosted virtual environment using either pcs or thin clients. All IT is cloud based including individual user profiles.


Al our projects are fully managed and what will make us different is that when working outside of normal working hours, we will not charge you overtime consultancy rates, the fees for projects, regardless of when they are completed, are charged at the normal daily rate.
Please visit our cloud services page for more information on our cloud and hosted services or complete the form below with your details where one of our staff will get in touch.
BACK TO IT CONSULTANCY