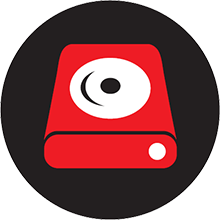 Flexibility and efficiency is always the balance and the key. Company data will be the most valuable commodity and the number one target for attack. It is the responsibility of the company to ensure that all company data is safely stored and backed up. It is our responsibility as your IT Provider to advise you accordingly as to which solution will best fulfill your requirements.
Backups will normall fall into two main options, the on-site backup and the cloud backup, and at times, a combination of both will best suit. The chosen solution will depend on budget, security, availablily and customer preference, Swift Digital will advise based on the criteria and install/support the chosen solution.
Onsite backup
Onsite backup will usually be via a chosen software solution such as Acronis or Symantec Veritas, and will utilise either backup tapes or NAS Drives (Network Attached Storage).
The solution will be monitored and managed and incorporated into the IT Support plan ensuring that daily backup checks are undertaken to ensure consistency. In addition we will arrange for periodic test restores that will confirm that the backups are usable. We will not assume that the backups are ok just because the software says complete, we will check via the test restore process.
Advantages of onsite backup
Low ongoing cost, once software and hardware has been purchased.
Data is easily accessible through tapes or Network Attached Storage.
Internet failures will not affect the backup or restore process.
Disadvantages of onsite backup
High initial outlay for hardware, tapes and software.
The responsibility for storing tapes offsite is the responsibility of staff at the client site.
If the client premises are not accessible the systems and data are not usable.
Local hardware failure can prevent backups and restores.
Off-site/Cloud backups
Offsite backups are used far more in today's businesses with a greater amount of security and accessibility available to anyone with a decent Internet connection.
Swift Digital has been closely working with our cloud partner for over a decade, and with UK based datacentres, offers our clients a secure, efficient and GDPR compliant service.
Upon commissioning of the off-site backup, we will install our client software on the servers and configure the online account, once complete, the backup jobs are configured and will run 7 days a week, 365 days a year. The data is encrypted before transfer and the softwre is intelligent enough to continue with the backup in the event of an Internet disruption. As part of your IT Support contract, we will monitor your backups on a daily basis and perform test restores to confirm the integrity of the backup.
BACK TO IT CONSULTANCY