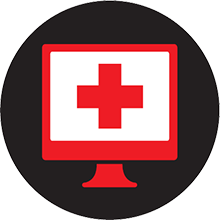 Disaster recovery is not something that is often addressed, especially with smaller organisations being viewed as unecessary and expensive. Disaster recovery is necessary and doesn't need to be expensive, there are a variety of solutions and techniques that can be employed to ensure that your most valuable asset in your company, your IT systems, are available to you in the case of a disaster.
If you are faced with an IT critical situation, in other words your IT Systems are unavailable or your premises are not accesible, how long can your business operate without email, without data files, without your applications? This question highlights to any business owner how important a Disaster Recovery Plan is. If your building is unavailable, what good are your backup tapes without the server infrastructure to restore them to? If your servers have a critical hardware failue and a suitable hardware support is not in place, can your business survive if you are told that it will take several days to order and configure new equipment?
Swift Digital can tailor a Disaster Recovery solution to match your needs and budget, we can highlight potential risks, identify critical IT systems and put a plan together to ensure that in an IT critical situation, your key staff are quickly able to access key systems. The plan will be different for every business, it may be to ensure that your infrastructure is held in the cloud on a virtual environment that will allow access to the systems from remote locations. It may be that a server is set up to mirror your existing server, or it could be that your backups are run several times a day on your virtual environment where you will have multiple points in every day where your systems can quickly be restored to.
BACK TO IT CONSULTANCY