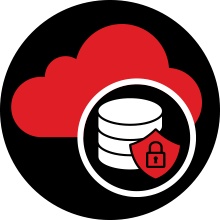 A more common occurrence in many businesses whether large or small is data loss. Data loss can be through human error, hardware failure, viruses or Ransomware to mention a few. Whatever the reason, all companies need to be sure that their data is protected, not only from unauthorised access but from the aforementioned. It shoudl therefore be a priority that a secure, efficient, reliable and accessible backup solution is in place. With the progression of technology in recent years and with more reliable and faster business Internet connections, online backup should be the number one choice.
Our online backup system is a secure encrypted service that backs up your clitical data whether it is files, SQL Server databases or on-site Excahnge emails. We install a small client on your server or pc that then ties in to our UK based datacentres and then create the required backup jobs which can be run once a day or multiple times a day. Once complete the backup will run as per its schedule and report back to us on the success or failure of the backup job. As part of our IT Support contracts, we check on a daily basis the status of the backup jobs, if they fail for whatever reason, we raise a support case and resolve the issue.
Our online backup system is secure as it operates over SSL and prior to transferring the backup files, they are encrypted with a key that only your system knows. A client portal is also available where if required, files can be securely downloaded from any internet connection. This means that even if your building and office hardware are no longer available, you will still be able to log in and restore your critical files to your local pc.
Price example for Cloud based online backup
Hosted secure and encrypted online cloud backup held in UK datacentres.
This package is an example using a 100Gb storage quota. Please contact us for a specific price for your storage requirements.
What's included?
100Gb Storage quota
SQL database agent
Exchange angent
Automated backups
online portal
Fully managed
COST: £90 PER MONTH FOR 100GB STORAGE
BACK TO CLOUD SERVICES