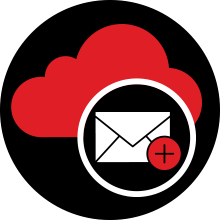 One of the most important services of any business is email. Many businesses are so dependent on email that they cannot operate without it. With the traditional on-site email system, companies have a server that runs Microsoft Exchange or another similar email platform. If the on-site server develops a problem, or if the Internet into the business fails, the emails stop and staff cannot send or receive emails. This single point of failure can cause major disruption for the business and can potentially cost the company valuable business.
The solution is to have an email system that removes this single point of failure whilst retaining all of the features of Microsoft Exchange and other coprorate email systems. Our hosted email system is at the core and Enterprise level Microsoft Exchange system. Our hosted email system is run by multiple servers and are geo-redundant across three datacentres located in the UK. Hosting your emails on our Enterprise level Exchange hosted email system will not only improve on the performance of your emails and make them available 100% of the time, but it will also remove the need to have expensive hardware, software and licensing.
Why go for our Hosted Exchange email system? Here is a short list of what you will get as part of the single monthly per mailbox fee:
- Secure access via SSL and hosted in fully ISO27001 accredited UK datacentres.

- Totally unlimited mailbox storage.

- Totally unlimited mailbox archive storage.

- Daily backups of all mailboxes.

- SPAMExperts Anti Spam.

- Only pay a single monthly fee for each mailbox that is in use.

- Collaboration and public folders.

- Secure access webmail.

Seamless synchronisation across all devices including PCs, MAC, IOS and Android.
If you already have an in-house email system or even if you are currently on another email platform, we can arrange to migrate your systems across to our hosted platform with minimum disruption.
Prices for Cloud based Hosted Exchange Email
Hosted secure Enterprise level Microsoft Exchange hosted email system.
This package is charged on the last working day of the month for the active mailboxes only. There is no tie in period, this is based on a monthly rolling contract.
What's included?
Secure access to all devices
Unlimited mailbox storage
SPAMExperts Anti Spam included
Daily backups
Collaboration and public folders
COST: £6 PER MONTH PER MAILBOX
BACK TO CLOUD SERVICES